EOSE Supports the Launch of "The House of Sport Volunteers."
On 29 September EOSE was pleased to take part in the launch of The House of Sport Volunteers, a global platform that aims to connect sport volunteers with receiving organisations, such as events' organisers, sport organisations, NGOs, foundations, and other strategic partners from sport and beyond.
The launch took place through a virtual kick-off meeting, bringing together experts from a range of institutions, international organizations, NGOs, representatives from the world of sport, grassroots initiatives, and academia.
Geoff Carroll, EOSE's Skills Development Director, was one of the panellists at the launch and presented a summary of key findings from the new, ground-breaking research report – Sport Volunteering in Europe: Realities, Opportunities and Challenges, produced by our very own Erasmus+ V4V project.
About the House of Sport Volunteers
The House of Sport Volunteers provides a platform that aims to support sport volunteerism and the promotion of its educational and societal values across communities, by connecting and supporting volunteers in sporting events of any size and sport-based projects, providing a global database of sport volunteers' profiles, volunteering opportunities, and a unique offer of training, educational programmes, certification of skills and competencies.
The House is the result of three years of research and testing implemented thanks to the support of the European Union, The House is aligned with the 2030 Agenda for Sustainable Development and other United Nations frameworks like UNESCO Fit for Life.
Members of the House of Sport Volunteers
Currently, the open-ended group of the members of the House comprises Save the Dream, International Olympic Truce Centre, European Multiclub Sport Association (EMCA), CIFAL MÁLAGA, the International Platform on Sport and Development (Sportanddev), FARE Network, Sport at the Service of Humanity, European Observatoire of Sport and Employment (EOSE), Italian National Olympic Committee (CONI), International School Sport Federation (ISF), the World Boxing Council (WBC), World Ethnosport Confederation (WEC), Fundação do Desporto, Olympiacos F.C., HAŠK Mladost F.C., Dragones de Lavapies F.C., Portuguese Swimming Federation, Foundation for Sport, Development and Peace, Sport4Impact, Sport and Citizenship, You Energy Volley, Centro Sportivo Italiano, Tegla Loroupe Peace Foundation, Goleadoras, Generation Amazing Foundation, European Football for Development Network (EFDN), Qatar Youth, Power La Fondazione Sportcity, garagErasmus Foundation, and Somali Women Foundation.
Among the members are also the Integrated Community Development Initiative (ICODI), Odyssey Sports Volunteering Association, International Peace Group (GIP), Katowice Internationals Foundation, the European Platform for Sport Innovation (EPSI), Tunisen cultural youth movement "FanniRaghmanAnni", Agenţia Metropolitană Brașov, Local Youth Corner Cameroon, Comisión Española de Ayuda al Refugiado (CEAR), Youth for Peace and Development Uganda (YOPEDU), Youthorama, and the European School Sport Federation (ESSF).
The House also brought together a number of academic institutions including the University of the District of Columbia, the Georgetown University in Qatar, Universidad Pablo de Olavide de Sevilla, Universitat de les Illes Balears, Instituto Universitário de Lisboa, Hamad Bin Khalifa University (HBKU), the University of Coimbra, University of Leeds, Universidad Andrés Bello, George Washington University, Canterbury Christ Church University, and Universidad Peruana de Ciencias Aplicadas.
For more information
Individuals and organisations can easily find out more or join The House and have access to opportunities through its dedicated digital platform www.houseofvolunteers.com (Click here)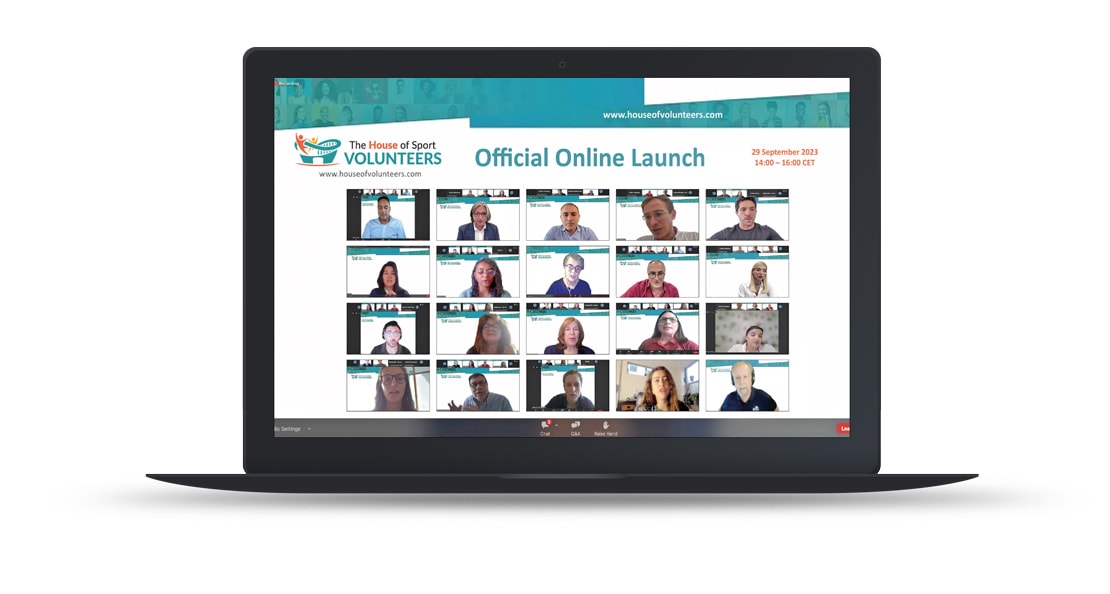 Contact
Mr Aurélien Favre – EOSE Executive Director – Click here